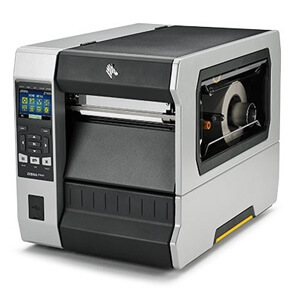 Zebra ZT620 Series Printers
This new duo of ZT610 and ZT620 printers features next-generation operational visibility, control and adaptability to meet evolving needs.
Part numbers
Below are several part numbers for the Zebra ZT620 Series Printers. BCI can provide you with preferred pricing and help you select the right part numbers and accessories for your needs, request help today.
| | | | |
| --- | --- | --- | --- |
| Part Number | Description | MSRP | Your Price! |
| ZT62062-T010100Z | ZT620, 6'', 203 dpi, US Cord, Serial, USB, Gigabit Ethernet, Bluetooth 4.0, USB Host, Tear, Color, ZPL | $5,296 | Quote |
| ZT62062-T0101A0Z | ZT620, 6'', 203 dpi, US Cord, Serial, USB, Gigabit Ethernet, Bluetooth 4.0, USB Host, Tear, RFID UHF Encoder: US & Canada, Color, ZPL | $7,263 | Quote |
| ZT62062-T010200Z | TT Printer ZT620; 6", 203 dpi, US Cord, Serial, USB, Gigabit Ethernet, Bluetooth 4.0, USB Host, Tear, Color Touch, ZPL | $5,244 | Quote |
| ZT62062-T01020GA | TT Printer TAA ZT620; 6", 203 dpi, US Cord, Serial, USB, Gigabit Ethernet, Bluetooth 4.0, USB Host, Tear, Color Touch, ZPL | $5,244 | Quote |
| ZT62062-T0102A0Z | TT Printer ZT620; 6", 203 dpi, US Cord, Serial, USB, Gigabit Ethernet, Bluetooth 4.0, USB Host, Tear, RFID UHF Encoder: US & Canada, Color Touch, ZPL | $7,211 | Quote |
| ZT62062-T01A100Z | ZT620, 6'', 203 dpi, US Cord, Serial, USB, Gigabit Ethernet, Bluetooth 4.0, USB Host, Wireless 802.11 AC Card:US & Canada, Tear, Color, ZPL | $5,793 | Quote |
| ZT62062-T01A200Z | TT Printer ZT620; 6", 203 dpi, US Cord, Serial, USB, Gigabit Ethernet, Bluetooth 4.0, USB Host, Wireless 802.11 AC Card:US & Canada, Tear, Color Touch, ZPL | $5,742 | Quote |
| ZT62062-T110100Z | ZT620, 6'', 203 dpi, US Cord, Serial, USB, Gigabit Ethernet, Bluetooth 4.0, USB Host, Cutter, Color, ZPL | $6,088 | Quote |
| ZT62062-T110200Z | TT Printer ZT620; 6", 203 dpi, US Cord, Serial, USB, Gigabit Ethernet, Bluetooth 4.0, USB Host, Cutter, Color Touch, ZPL | $6,037 | Quote |
| ZT62062-T210100Z | ZT620, 6'', 203 dpi, US Cord, Serial, USB, Gigabit Ethernet, Bluetooth 4.0, USB Host, Rewind, Color, ZPL | $5,689 | Quote |
| ZT62062-T210200Z | TT Printer ZT620; 6", 203 dpi, US Cord, Serial, USB, Gigabit Ethernet, Bluetooth 4.0, USB Host, Rewind, Color Touch, ZPL | $5,638 | Quote |
| ZT62063-T0101A0Z | ZT620, 6'', 300 dpi, US Cord, Serial, USB, Gigabit Ethernet, Bluetooth 4.0, USB Host, Tear, RFID UHF Encoder: US & Canada, Color, ZPL | $7,465 | Quote |
| ZT62063-T010200Z | TT Printer ZT620; 6", 300 dpi, US Cord, Serial, USB, Gigabit Ethernet, Bluetooth 4.0, USB Host, Tear, Color Touch, ZPL | $5,446 | Quote |
| ZT62063-T0102A0Z | TT Printer ZT620; 6", 300 dpi, US Cord, Serial, USB, Gigabit Ethernet, Bluetooth 4.0, USB Host, Tear, RFID UHF Encoder: US & Canada, Color Touch, ZPL | $7,413 | Quote |
| ZT62063-T01A200Z | TT Printer ZT620; 6", 300 dpi, US Cord, Serial, USB, Gigabit Ethernet, Bluetooth 4.0, USB Host, Wireless 802.11 AC Card:US & Canada, Tear, Color Touch, ZPL | $5,943 | Quote |
| ZT62063-T110200Z | TT Printer ZT620; 6", 300 dpi, US Cord, Serial, USB, Gigabit Ethernet, Bluetooth 4.0, USB Host, Cutter, Color Touch, ZPL | $6,239 | Quote |
| ZT62063-T210200Z | TT Printer ZT620; 6", 300 dpi, US Cord, Serial, USB, Gigabit Ethernet, Bluetooth 4.0, USB Host, Rewind, Color Touch, ZPL | $5,840 | Quote |