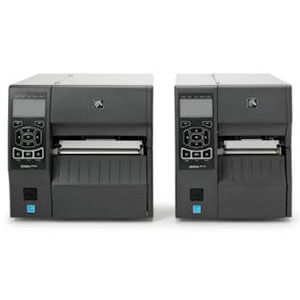 Zebra ZT400 Series Printers
Keep your critical operations running efficiently. Constructed with an all-metal frame and bi-fold door, ZT400 Series printers deliver advancements in print speed, registration and connectivity as well as additional advanced features. ZT400 printers feature USB, Serial, Ethernet and Bluetooth® connectivity along with expanded RFID capabilities. And with Zebra's Link-OS® environment, an innovative operating system, you can easily integrate, manage and maintain these printers from anywhere in the world.
More information available at the following link:

Zebra ZT400 Series Printers Specification Sheet
Part numbers
Below are several part numbers for the Zebra ZT400 Series Printers. BCI can provide you with preferred pricing and help you select the right part numbers and accessories for your needs, request help today.
| | | | |
| --- | --- | --- | --- |
| Part Number | Description | MSRP | Your Price! |
| DS-ZT4PGP1101735 | Bundle, ZT41042-T31000PG, Network Connect ZT410; 4", 203 dpi, US Cord, Serial, USB, 10/100 Ethernet, Bluetooth 2.1/MFi, USB Host, Peel w/ Liner Take-Up, EZPL | $2,597 | Quote |
| ZT41042-T010000Z | ZT410, 4'', 203 dpi, US Cord, Serial, USB, 10/100 Ethernet, Bluetooth 2.1/MFi, USB Host, EZPL | $1,802 | Quote |
| ZT41042-T01000GA | TT Printer BAA/TAA ZT410; 4", 203 dpi, US Cord, Serial, USB, 10/100 Ethernet, Bluetooth 2.1/MFi, USB Host, EZPL | $1,802 | Quote |
| ZT41042-T01A000Z | ZT410, 4'', 203 dpi, US Cord, Serial, USB, 10/100 Ethernet, Bluetooth 2.1/MFi, USB Host, Wireless 802.11 a/b/g/n Card: US & Canada, EZPL | $2,310 | Quote |
| ZT41042-T01C000Z | ZT410, 4'', 203 dpi, US Cord, Serial, USB, 10/100 Ethernet, Bluetooth 2.1/MFi, USB Host, Wireless 802.11 a/b/g/n Card: Rest of World (ROW), EZPL | $2,310 | Quote |
| ZT41042-T0G0000Z | ZT410 203 dpi India Cord USBBT2.1/MFi | $1,700 | Quote |
| ZT41042-T0GC000Z | ZT410 203 dpi India Cord USBBT2.1/MFi | $2,180 | Quote |
| ZT41042-T110000Z | ZT410, 4'', 203 dpi, US Cord, Serial, USB, 10/100 Ethernet, Bluetooth 2.1/MFi, USB Host, Peel, EZPL | $1,980 | Quote |
| ZT41042-T210000Z | ZT410, 4", 203 dpi, US Cord, USB, Serial, 10/100 Ethernet, Bluetooth 2.1/MFi, USB Host, Cutter w/ Catch Tray, EZPL | $2,510 | Quote |
| ZT41042-T310000Z | ZT410, 4'', 203 dpi, US Cord, Serial, USB, 10/100 Ethernet, Bluetooth 2.1/MFi, USB Host, Peel w/ Liner Take-Up, EZPL | $2,184 | Quote |
| ZT41042-T31A000Z | TT Printer ZT410; 4", 203 dpi, US Cord, Serial, USB, 10/100 Ethernet, Bluetooth 2.1/MFi, USB Host, Wireless 802.11 a/b/g/n Card: US & Canada, Peel w/ Liner Take-Up, EZPL | $2,691 | Quote |
| ZT41042-T410000Z | ZT410, 4'', 203 dpi, US Cord, Serial, USB, 10/100 Ethernet, Bluetooth 2.1/MFi, USB Host, Peel w/ Full Rewind, EZPL | $2,306 | Quote |
| ZT41043-T010000Z | ZT410, 4", 300 dpi, US Cord, USB, Serial, 10/100 Ethernet, Bluetooth 2.1/MFi, USB Host, EZPL | $2,206 | Quote |
| ZT41043-T01000GA | TT Printer BAA/TAA ZT410; 4", 300 dpi, US Cord, Serial, USB, 10/100 Ethernet, Bluetooth 2.1/MFi, USB Host, EZPL | $2,206 | Quote |
| ZT41043-T0100A0Z | ZT410, 4'', 300 dpi, US Cord, Serial, USB, 10/100 Ethernet, Bluetooth 2.1/MFi, USB Host, RFID UHF Encoder: US & Canada, EZPL | $4,212 | Quote |
| ZT41043-T0100AGA | TT Printer BAA/TAA ZT410; 4", 300 dpi, US Cord, Serial, USB, 10/100 Ethernet, Bluetooth 2.1/MFi, USB Host, RFID UHF Encoder: US & Canada, EZPL | $4,212 | Quote |
| ZT41043-T01A000Z | TT Printer ZT410; 4", 300 dpi, US Cord, Serial, USB, 10/100 Ethernet, Bluetooth 2.1/MFi, USB Host, Wireless 802.11 a/b/g/n Card: US & Canada, EZPL | $2,775 | Quote |
| ZT41043-T0900C0Z | TT Printer ZT410; 4", 300 dpi, Chinese Cord (w/ SimSun Font), Serial, USB, 10/100 Ethernet, Bluetooth 2.1/MFi, USB Host, RFID UHF Encoder: Rest of World (ROW), EZPL | $4,212 | Quote |
| ZT41043-T0A00C0Z | TT Printer ZT410; 4", 300 dpi, Brazilian Cord, Serial, USB, 10/100 Ethernet, Bluetooth 2.1/MFi, USB Host, RFID UHF Encoder: Rest of World (ROW), EZPL | $4,212 | Quote |
| ZT41043-T0P00B0Z | TT Printer ZT410; 4", 300 dpi, UK/AU/JP/EU Cords, Serial, USB, 10/100 Ethernet, Bluetooth 2.1/MFi, USB Host, RFID UHF Encoder: Japan, EZPL | $4,212 | Quote |
| ZT41043-T0P00C0Z | ZT410, 4'', 300 dpi, UK/AU/JP/EU Cords, Serial, USB, 10/100 Ethernet, Bluetooth 2.1/MFi, USB Host, RFID UHF Encoder: Rest of World (ROW), EZPL | $4,212 | Quote |
| ZT41043-T110000Z | ZT410, 4'', 300 dpi, US Cord, Serial, USB, 10/100 Ethernet, Bluetooth 2.1/MFi, USB Host, Peel, EZPL | $2,382 | Quote |
| ZT41043-T210000Z | ZT410, 4'', 300 dpi, US Cord, Serial, USB, 10/100 Ethernet, Bluetooth 2.1/MFi, USB Host, Cutter w/ Catch Tray, EZPL | $2,913 | Quote |
| ZT41043-T310000Z | ZT410, 4'', 300 dpi, US Cord, Serial, USB, 10/100 Ethernet, Bluetooth 2.1/MFi, USB Host, Peel w/ Liner Take-Up, EZPL | $2,586 | Quote |
| ZT41043-T410000Z | ZT410, 4'', 300 dpi, US Cord, Serial, USB, 10/100 Ethernet, Bluetooth 2.1/MFi, USB Host, Peel w/ Full Rewind, EZPL | $2,709 | Quote |
| ZT41046-T010000Z | ZT410, 4'', 600 dpi, US Cord, Serial, USB, 10/100 Ethernet, Bluetooth 2.1/MFi, USB Host, EZPL | $3,438 | Quote |
| ZT41046-T01000GA | TT Printer BAA/TAA ZT410; 4", 600 dpi, US Cord, Serial, USB, 10/100 Ethernet, Bluetooth 2.1/MFi, USB Host, EZPL | $3,438 | Quote |
| ZT41046-T410000Z | ZT410, 4'', 600 dpi, US Cord, Serial, USB, 10/100 Ethernet, Bluetooth 2.1/MFi, USB Host, Peel w/ Full Rewind, EZPL | $3,973 | Quote |
| ZT410A2-T010000Z | TT Printer ZT410; 4", 203 dpi, US Cord, Serial, USB, 10/100 Ethernet, Bluetooth 2.1/MFi, USB Host, EZPL,Color | $1,906 | Quote |
| ZT410A2-T01D000Z | TT Printer ZT410; 4", 203 dpi, US Cord, Serial, USB, Bluetooth, and ZebraNet Internal Wireless 802.11ac with Bluetooth 4.0, United States and Canada Only, EZPL,Color | $2,268 | Quote |
| ZT42062-T010000Z | ZT420, 6'', 203 dpi, US Cord, Serial, USB, 10/100 Ethernet, Bluetooth 2.1/MFi, USB Host, EZPL | $3,236 | Quote |
| ZT42062-T0100A0Z | ZT420, 6'', 203 dpi, US Cord, Serial, USB, 10/100 Ethernet, Bluetooth 2.1/MFi, USB Host, RFID UHF Encoder: US & Canada, EZPL | $5,265 | Quote |
| ZT42062-T0100AGA | TT Printer TAA ZT420; 6", 203 dpi, US Cord, Serial, USB, 10/100 Ethernet, Bluetooth 2.1/MFi, USB Host, RFID UHF Encoder: US & Canada, EZPL | $5,265 | Quote |
| ZT42062-T01A000Z | ZT420, 6'', 203 dpi, US Cord, Serial, USB, 10/100 Ethernet, Bluetooth 2.1/MFi, USB Host, Wireless 802.11 a/b/g/n Card: US & Canada, EZPL | $3,748 | Quote |
| ZT42062-T0A0000Z | ZT420, 6'', 203 dpi, Brazilian Cord, Serial, USB, 10/100 Ethernet, Bluetooth 2.1/MFi, USB Host, EZPL | $3,236 | Quote |
| ZT42062-T0EC000Z | TT Printer ZT420; 6", 203 dpi, Euro and UK cord, Serial, USB, 10/100 Ethernet, Bluetooth 2.1/MFi, USB Host, Wireless 802.11 a/b/g/n Card: Rest of World (ROW), EZPL | $3,748 | Quote |
| ZT42062-T210000Z | ZT420, 6'', 203 dpi, US Cord, Serial, USB, 10/100 Ethernet, Bluetooth 2.1/MFi, USB Host, Cutter w/ Catch Tray, EZPL | $4,152 | Quote |
| ZT42062-T410000Z | ZT420, 6'', 203 dpi, US Cord, Serial, USB, 10/100 Ethernet, Bluetooth 2.1/MFi, USB Host, Peel w/ Full Rewind, EZPL | $3,845 | Quote |
| ZT42063-T010000Z | ZT420, 6'', 300 dpi, US Cord, Serial, USB, 10/100 Ethernet, Bluetooth 2.1/MFi, USB Host, EZPL | $3,744 | Quote |
| ZT42063-T0100A0Z | ZT420, 6'', 300 dpi, US Cord, Serial, USB, 10/100 Ethernet, Bluetooth 2.1/MFi, USB Host, RFID UHF Encoder: US & Canada, EZPL | $5,778 | Quote |
| ZT42063-T090000Z | ZT420, 6'', 300 dpi, Chinese Cord (w/ SimSun Font), Serial, USB, 10/100 Ethernet, Bluetooth 2.1/MFi, USB Host, EZPL | $3,744 | Quote |
| ZT42063-T110000Z | TT Printer ZT420; 6", 300 dpi, US Cord, Serial, USB, 10/100 Ethernet, Bluetooth 2.1/MFi, USB Host, Peel, EZPL | $4,025 | Quote |
| ZT42063-T210000Z | ZT420, 6'', 300 dpi, US Cord, Serial, USB, 10/100 Ethernet, Bluetooth 2.1/MFi, USB Host, Cutter w/ Catch Tray, EZPL | $4,656 | Quote |
| ZT42063-T410000Z | ZT420, 6'', 300 dpi, US Cord, Serial, USB, 10/100 Ethernet, Bluetooth 2.1/MFi, USB Host, Peel w/ Full Rewind, EZPL | $4,351 | Quote |
| ZT420A2-T010000Z | TT Printer ZT420; 6", 203 dpi, US Cord, Serial, USB, 10/100 Ethernet, Bluetooth 2.1/MFi, USB Host, EZPL, Color | $3,340 | Quote |
| ZT420A2-T01D000Z | TT Printer ZT420; 4", 203 dpi, US Cord, Serial, USB, Bluetooth, and ZebraNet Internal Wireless 802.11ac with Bluetooth 4.0, United States and Canada Only, EZPL,Color | $3,706 | Quote |