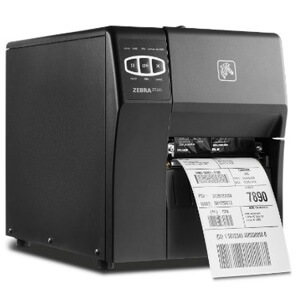 Zebra ZT220 Series Printers
The ZT200 series offers a streamlined design and smaller footprint that takes up less physical space than the Stripe and S4M models. ZT200 series printers require minimal operator training and benefit from tool-less standard component maintenance and a durable design to minimize service. Your IT staff will appreciate the backwards compatibility, since it allows for new printers to be up and running with minimal time and effort. The ZT200 series has been designed for ease of use, versatility and outstanding value.
More information available at the following link:

Zebra ZT220 Series Printers Specification Sheet
Part numbers
Below are several part numbers for the Zebra ZT220 Series Printers. BCI can provide you with preferred pricing and help you select the right part numbers and accessories for your needs, request help today.
| | | | |
| --- | --- | --- | --- |
| Part Number | Description | MSRP | Your Price! |
| ZT22042-D01000FZ | ZT220, 203 dpi, US Cord, Serial, USB | $922 | Quote |
| ZT22042-D01200FZ | ZT220, 203 dpi, US Cord, Serial, USB, Int 10/100 | $1,201 | Quote |
| ZT22042-D01A00FZ | DT Printer ZT220; 203 dpi, US Cord, Serial, USB, and ZebraNet n Print Server United States and Canada | $1,547 | Quote |
| ZT22042-D21000FZ | DT Printer ZT220; 203 dpi, US Cord, Serial, USB, Cutter with Catch Tray | $1,543 | Quote |
| ZT22042-D21A00FZ | DT Printer ZT220; 203 dpi, US Cord, Serial, USB, and ZebraNet n Print Server United States and Canada, Cutter with Catch Tray | $2,060 | Quote |
| ZT22042-T01000FZ | ZT220, 203 dpi, US Cord, Serial, USB | $1,015 | Quote |
| ZT22042-T01000GA | ZT220 Industrial Printer (203 dpi, TT, US Power Cord, Serial/USB Tear Bar) | $1,015 | Quote |
| ZT22042-T01100FZ | TT Printer ZT220; 203 dpi, US Cord, Serial, USB, Parallel | $1,212 | Quote |
| ZT22042-T01200FZ | ZT220, 203 dpi, US Cord, Serial, USB, Int 10/100 | $1,294 | Quote |
| ZT22042-T21000FZ | TT Printer ZT220; 203 dpi, US Cord, Serial, USB, Cutter with Catch Tray | $1,647 | Quote |
| ZT22042-T21200FZ | TT Printer ZT220; 203 dpi, US Cord, Serial, USB, Int 10/100, Cutter with Catch Tray | $1,956 | Quote |
| ZT22042-T21A00FZ | TT Printer ZT220; 203 dpi, US Cord, Serial, USB, and ZebraNet n Print Server United States and Canada, Cutter with Catch Tray | $2,163 | Quote |
| ZT22043-D01000FZ | ZT220, 300 dpi, US Cord, Serial, USB | $1,341 | Quote |
| ZT22043-D01100FZ | DT Printer ZT220; 300 dpi, US Cord, Serial, USB, Parallel | $1,575 | Quote |
| ZT22043-D01200FZ | ZT220, 300 dpi, US Cord, Serial, USB, Int 10/100 | $1,619 | Quote |
| ZT22043-T01000FZ | ZT220, 300 dpi, US Cord, Serial, USB | $1,434 | Quote |
| ZT22043-T01100FZ | TT Printer ZT220; 300 dpi, US Cord, Serial, USB, Parallel | $1,678 | Quote |
| ZT22043-T01200FZ | ZT220, 300 dpi, US Cord, Serial, USB, Int 10/100 | $1,711 | Quote |
| ZT22043-T01A00FZ | TT Printer ZT220; 300 dpi, US Cord, Serial, USB, and ZebraNet n Print Server United States and Canada | $2,117 | Quote |
| ZT22043-T11200FZ | TT Printer ZT220; 300 dpi, US Cord, Serial, USB, Int 10/100, Peel | $2,091 | Quote |
| ZT22043-T21000FZ | TT Printer ZT220; 300 dpi, US Cord, Serial, USB, Cutter with Catch Tray | $2,113 | Quote |
| ZT22043-T21100FZ | TT Printer ZT220; 300 dpi, US Cord, Serial, USB, Parallel, Cutter with Catch Tray | $2,191 | Quote |
| ZT22043-T21A00FZ | TT Printer ZT220; 300 dpi, US Cord, Serial, USB, and ZebraNet n Print Server United States and Canada, Cutter with Catch Tray | $2,630 | Quote |