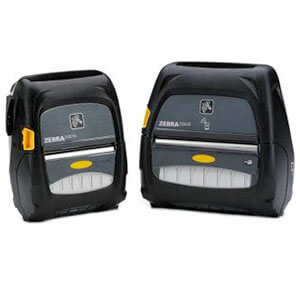 Zebra ZQ500 Mobile Printers
Extreme environments and bangs and bumps are no match for these lightweight, compact printers. Zebra's ZQ510™ and ZQ520™ printers are the most rugged printers available. They perform in the widest operating temperature range in the industry and can withstand repeated drops to concrete from up to 6.6 feet. Water spray is no match with their IP54 rating. Featuring Zebra's Link-OS® environment, these premium printers are easy to integrate, manage and maintain. With large buttons and a user-friendly interface, they are easy to operate, even when wearing gloves.
More information available at the following link:
Zebra ZQ500 Mobile Printers Specification Sheet
Part numbers
Below are several part numbers for the Zebra ZQ500 Mobile Printers. BCI can provide you with preferred pricing and help you select the right part numbers and accessories for your needs, request help today.
| | | | |
| --- | --- | --- | --- |
| Part Number | Description | MSRP | Your Price! |
| DS-ZQ5FLP1089765 | | $1,053 | Quote |
| DS-ZQ5NNP1095694 | ZQ52, Bundle, ZQ52-AUN0200-NN, Mobile RFID ZQ520; Dual Radio (Bluetooth 3.0/WLAN), RFID Encoding, Linered Platen, English, Grouping 0 | $2,537 | Quote |
| DS-ZQ5RAP1099020 | BUNDLE,ZQ52 (COKE)BT 4.0 | $1,035 | Quote |
| ZQ51-AUE0000-00 | ZQ510, Bluetooth 4.0, Linered Platen, English, Grouping 0 | $762 | Quote |
| ZQ51-AUE0010-00 | ZQ510, Bluetooth 4.0, Linered Platen, No Battery (for use with battery eliminator or extended battery options), English, Grouping 0 | $674 | Quote |
| ZQ51-AUN0100-00 | ZQ510, Dual Radio (Bluetooth 3.0/WLAN), Linered Platen, Active NFC, English, Grouping 0 | $927 | Quote |
| ZQ51-AUN0110-00 | ZQ510, Dual Radio (Bluetooth 3.0/WLAN), Linered Platen, Active NFC, No Battery (for use with battery eliminator or extended battery options), English, Grouping 0 | $840 | Quote |
| ZQ52-AUE0010-GB | DT Printer ZQ520; Government, Bluetooth 4.0, Linered Platen, No Battery (for use with battery eliminator or extended battery options), English, Grouping 0, TAA | $950 | Quote |
| ZQ52-AUE0000-00 | ZQ520, Bluetooth 4.0, Linered Platen, English, Grouping 0 | $959 | Quote |
| ZQ52-AUE0000-GA | DT Printer ZQ520; Government, Bluetooth 4.0, Linered Platen, English, Grouping 0 | $959 | Quote |
| ZQ52-AUE0010-00 | ZQ520, Bluetooth 4.0, Linered Platen, No Battery (for use with battery eliminator or extended battery options), English, Grouping 0 | $871 | Quote |
| ZQ52-AUE0010-GA | DT Printer ZQ520; Government, Bluetooth 4.0, Linered Platen, No Battery (for use with battery eliminator or extended battery options), English, Grouping 0 | $871 | Quote |
| ZQ52-AUN0100-00 | ZQ520, Dual Radio (Bluetooth 3.0/WLAN), Linered Platen, Active NFC, English, Grouping 0 | $1,124 | Quote |
| ZQ52-AUN0110-00 | ZQ520, Dual Radio (Bluetooth 3.0/WLAN), Linered Platen, Active NFC, No Battery (for use with battery eliminator or extended battery options), English, Grouping 0 | $1,036 | Quote |
| ZQ52-AUN1000-00 | ZQ520, Dual Radio (Bluetooth 3.0/WLAN), Linerless Platen, English, Grouping 0 | $1,124 | Quote |
| ZQ52-AUN1000-NL | | $1,085 | Quote |