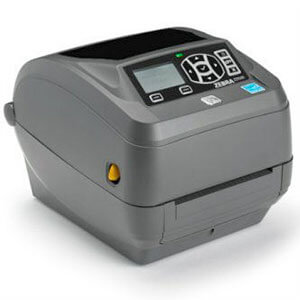 Zebra ZD500R Printers
Small in size but full of features, the ZD500R is Link-OS-enabled making it simple to integrate and manage. With automatic calibration, you'll enjoy lower media cost, less waste and fewer roll changes. Featuring UHF RFID encoding capabilities, it is ideal for numerous applications such as retail tagging as well as manufacturing, government and healthcare tracking.
More information available at the following link:
Zebra ZD500R Printers Specification Sheet
Part numbers
Below are several part numbers for the Zebra ZD500R Printers. BCI can provide you with preferred pricing and help you select the right part numbers and accessories for your needs, request help today.
| | | | |
| --- | --- | --- | --- |
| Part Number | Description | MSRP | Your Price! |
| ZD50042-T012R1FZ | ZD500R, 203 dpi, US Cord, USB/Serial/Centronics Parallel/Ethernet, RFID-UHF US/Canada | $2,033 | Quote |
| ZD50042-T012R2FZ | TT Printer ZD500R; 203 dpi, US Cord, USB/Serial/Centronics Parallel/Ethernet, RFID-UHF ROW | $2,033 | Quote |
| ZD50042-T013R1FZ | ZD500R, 203 dpi, US Cord, USB/Serial/Centronics Parallel/Ethernet/802.11abgn and Bluetooth, RFID-UHF US/Canada | $2,287 | Quote |
| ZD50042-T112R1FZ | ZD500R, 203 dpi, US Cord, USB/Serial/Centronics Parallel/Ethernet, Dispenser (Peel), RFID-UHF US/Canada | $2,069 | Quote |
| ZD50042-T113R1FZ | ZD500R, 203 dpi, US Cord, USB/Serial/Centronics Parallel/Ethernet/802.11abgn and Bluetooth, Dispenser (Peel), RFID-UHF US/Canada | $2,323 | Quote |
| ZD50042-T212R1FZ | ZD500R, 203 dpi, US Cord, USB/Serial/Centronics Parallel/Ethernet, Cutter, RFID-UHF US/Canada | $2,237 | Quote |
| ZD50042-T213R1FZ | ZD500R, 203 dpi, US Cord, USB/Serial/Centronics Parallel/Ethernet/802.11abgn and Bluetooth, Cutter, RFID-UHF US/Canada | $2,491 | Quote |
| ZD50043-T012R1FZ | ZD500R, 300 dpi, US Cord, USB/Serial/Centronics Parallel/Ethernet, RFID-UHF US/Canada | $2,135 | Quote |
| ZD50043-T013R1FZ | ZD500R, 300 dpi, US Cord, USB/Serial/Centronics Parallel/Ethernet/802.11abgn and Bluetooth, RFID-UHF US/Canada | $2,389 | Quote |
| ZD50043-T112R1FZ | ZD500R, 300 dpi, US Cord, USB/Serial/Centronics Parallel/Ethernet, Dispenser (Peel), RFID-UHF US/Canada | $2,170 | Quote |
| ZD50043-T113R1FZ | ZD500R, 300 dpi, US Cord, USB/Serial/Centronics Parallel/Ethernet/802.11abgn and Bluetooth, Dispenser (Peel), RFID-UHF US/Canada | $2,425 | Quote |
| ZD50043-T212R1FZ | ZD500R, 300 dpi, US Cord, USB/Serial/Centronics Parallel/Ethernet, Cutter, RFID-UHF US/Canada | $2,339 | Quote |
| ZD50043-T213R1FZ | ZD500R, 300 dpi, US Cord, USB/Serial/Centronics Parallel/Ethernet/802.11abgn and Bluetooth, Cutter, RFID-UHF US/Canada | $2,593 | Quote |