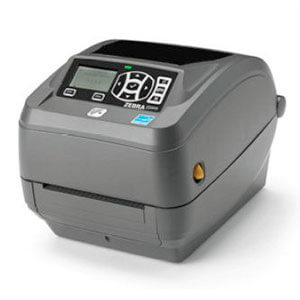 Zebra ZD500 Series Printers
Offering high-resolution print quality and quadruple connectivity options, the ZD500 is compact and feature-packed for top performance. A Link-OS-enabled printer, it is easy to integrate, manage and maintain from any location. Runs in direct thermal or thermal transfer mode.
More information available at the following link:
Zebra ZD500 Series Printers Specification Sheet
Part numbers
Below are several part numbers for the Zebra ZD500 Series Printers. BCI can provide you with preferred pricing and help you select the right part numbers and accessories for your needs, request help today.
| | | | |
| --- | --- | --- | --- |
| Part Number | Description | MSRP | Your Price! |
| DS-ZD5PGP1105144 | Bundle,ZD50043-T01200PG, Network Connec | $1,509 | Quote |
| ZD50042-T01200FZ | ZD500, 203 dpi, US Cord, USB/Serial/Centronics Parallel/Ethernet | $1,031 | Quote |
| ZD50042-T01A00FZ | ZD500, 203 dpi, US Cord, USB/Serial/Centronics Parallel/Ethernet/802.11abgn and Bluetooth | $1,289 | Quote |
| ZD50042-T11200FZ | ZD500, 203 dpi, US Cord, USB/Serial/Centronics Parallel/Ethernet, Dispenser (Peel) | $1,068 | Quote |
| ZD50042-T112R2FZ | TT Printer ZD500R; 203 dpi, US Cord, USB/Serial/Centronics Parallel/Ethernet, Dispenser (Peel), RFID-UHF ROW | $2,069 | Quote |
| ZD50042-T11A00FZ | ZD500, 203 dpi, US Cord, USB/Serial/Centronics Parallel/Ethernet/802.11abgn and Bluetooth, Dispenser (Peel) | $1,325 | Quote |
| ZD50042-T21200FZ | ZD500, 203 dpi, US Cord, USB/Serial/Centronics Parallel/Ethernet, Cutter | $1,238 | Quote |
| ZD50042-T21A00FZ | ZD500, 203 dpi, US Cord, USB/Serial/Centronics Parallel/Ethernet/802.11abgn and Bluetooth, Cutter | $1,496 | Quote |
| ZD50043-T01200FZ | ZD500, 300 dpi, US Cord, USB/Serial/Centronics Parallel/Ethernet | $1,134 | Quote |
| ZD50043-T01A00FZ | ZD500, 300 dpi, US Cord, USB/Serial/Centronics Parallel/Ethernet/802.11abgn and Bluetooth | $1,392 | Quote |
| ZD50043-T11200FZ | ZD500, 300 dpi, US Cord, USB/Serial/Centronics Parallel/Ethernet, Dispenser (Peel) | $1,171 | Quote |
| ZD50043-T11A00FZ | ZD500, 300 dpi, US Cord, USB/Serial/Centronics Parallel/Ethernet/802.11abgn and Bluetooth, Dispenser (Peel) | $1,428 | Quote |
| ZD50043-T21200FZ | ZD500, 300 dpi, US Cord, USB/Serial/Centronics Parallel/Ethernet, Cutter | $1,341 | Quote |
| ZD50043-T21A00FZ | ZD500, 300 dpi, US Cord, USB/Serial/Centronics Parallel/Ethernet/802.11abgn and Bluetooth, Cutter | $1,599 | Quote |