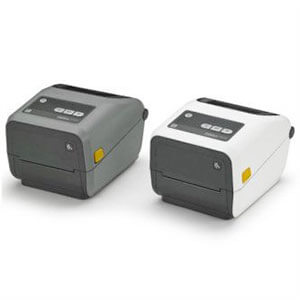 Zebra ZD420 Series Printers
In addition to the innovative ribbon cartridge, on-site upgrades and just about every modern wired and wireless connectivity option, the ZD420 also comes with Link-OS. This unique software platform greatly reduces time spent integrating, managing and troubleshooting all of your printers — making your thermal printers more cost effective than ever.
More information available at the following link:
Zebra ZD420 Series Printers Specification Sheet
Part numbers
Below are several part numbers for the Zebra ZD420 Series Printers. BCI can provide you with preferred pricing and help you select the right part numbers and accessories for your needs, request help today.
| | | | |
| --- | --- | --- | --- |
| Part Number | Description | MSRP | Your Price! |
| ZD42042-C01000EZ | TT Cartridge Printer ZD420; 4" print width, Standard EZPL, 203 dpi, US Cord, USB, USB Host, Modular Connectivity Slot | $720 | Quote |
| ZD42042-C01E00EZ | ZD420, 4'', 203 dpi, US Cord, USB, USB Host, BTLE, Ethernet Module, EZPL | $876 | Quote |
| ZD42042-C01E00GA | TTC Printer ZD420; 4", 203 dpi, US Cord, USB, USB Host, BTLE, Ethernet Module, EZPL,BAA | $876 | Quote |
| ZD42042-C01E00ZZ | TT Cartridge Printer ZD420; Standard EZPL, Starter media kit, 203 dpi, US Cord, USB, USB Host, BTLE, Modular Connectivity Slot - Ethernet | $876 | Quote |
| ZD42042-C01W01EZ | ZD420, 4'', 203 dpi, US Cord, USB, USB Host, BTLE, 802.11ac and Bluetooth 4.0, EZPL | $927 | Quote |
| ZD42042-C01W01ZZ | TT Cartridge Printer ZD420; Standard EZPL, Starter media kit, 203 dpi, US Cord, USB, USB Host, Modular Connectivity Slot, 802.11, BT USA/Canada | $927 | Quote |
| ZD42042-D01000EZ | ZD420, Standard EZPL, 203 dpi, US Cord, USB, USB Host, Modular Connectivity Slot | $617 | Quote |
| ZD42042-D01000GA | ZD420, BAA/TAA, 203 dpi, US Cord, USB, USB Host, Modular Connectivity Slot, EZPL | $617 | Quote |
| ZD42042-D01E00EZ | ZD420, Standard EZPL, 203 dpi, US Cord, USB, USB Host, BTLE, Modular Connectivity Slot - Ethernet | $772 | Quote |
| ZD42042-D01E00GA | DT Printer ZD420; BAA/TAA, 203 dpi, US Cord, USB, USB Host, BTLE, Modular Connectivity Slot, EZPL | $772 | Quote |
| ZD42042-D01G00EZ | ZD420, Standard EZPL, 203 dpi, US Cord, USB | $617 | Quote |
| ZD42042-D01W01EZ | ZD420, Direct Thermal Standard EZPL, 203 dpi, US Cord, USB, USB Host, Modular Connectivity Slot, 802.11, BT USA/Canada | $824 | Quote |
| ZD42042-T01000EZ | ZD420, Standard EZPL 203 dpi, US Cord, USB, USB Host, Modular Connectivity Slot | $720 | Quote |
| ZD42042-T01000GA | TT Printer ZD420; BAA/TAA, 203 dpi, US Cord, USB, USB Host, Modular Connectivity Slot | $720 | Quote |
| ZD42042-T01E00EZ | ZD420, Standard EZPL 203 dpi, US Cord, USB, USB Host, BTLE, Modular Connectivity Slot - Ethernet | $876 | Quote |
| ZD42042-T01E00GA | TT Printer ZD420; BAA/TAA, 203 dpi, US Cord, USB, USB Host, BTLE, Modular Connectivity Slot - Ethernet | $876 | Quote |
| ZD42042-T01G00EZ | TT Printer ZD420; Standard EZPL 203 dpi, US Cord, USB | $720 | Quote |
| ZD42042-T01W01EZ | ZD420, Thermal Transfer Standard EZPL 203 dpi, US Cord, USB, USB Host, Modular Connectivity Slot, 802.11, BT USA/Canada | $927 | Quote |
| ZD42043-C01000EZ | TT Cartridge Printer ZD420; 4" print width, Standard EZPL, 300 dpi, US Cord, USB, USB Host, Modular Connectivity Slot | $824 | Quote |
| ZD42043-C01E00EZ | ZD420, 4'', 300 dpi, US Cord, USB, USB Host, BTLE, Ethernet Module, EZPL | $979 | Quote |
| ZD42043-C01E00ZZ | TT Cartridge Printer ZD420; Standard EZPL, Starter media kit, 300 dpi, US Cord, USB, USB Host, BTLE, Modular Connectivity Slot - Ethernet | $979 | Quote |
| ZD42043-C01M00EZ | ZD420, 4'', 300 dpi, US Cord, USB, USB Host, BTLE, EZPL | $824 | Quote |
| ZD42043-C01M00ZZ | TT Cartridge Printer ZD420; Standard EZPL, Starter media kit, 300 dpi, US Cord, USB, USB Host, Modular Connectivity Slot, BTLE | $824 | Quote |
| ZD42043-C01W01EZ | ZD420, 4'', 300 dpi, US Cord, USB, USB Host, BTLE, 802.11ac and Bluetooth 4.0, EZPL | $1,031 | Quote |
| ZD42043-C01W01ZZ | TT Cartridge Printer ZD420; Standard EZPL, Starter media kit, 300 dpi, US Cord, USB, USB Host, Modular Connectivity Slot, 802.11, BT USA/Canada | $1,031 | Quote |
| ZD42043-D01000EZ | DT Printer ZD420; Standard EZPL, 300 dpi, US Cord, USB, USB Host, Modular Connectivity Slot | $720 | Quote |
| ZD42043-D01E00EZ | DT Printer ZD420; Standard EZPL, 300 dpi, US Cord, USB, USB Host, BTLE, Modular Connectivity Slot - Ethernet | $876 | Quote |
| ZD42043-D01W01EZ | DT Printer ZD420; Standard EZPL, 300 dpi, US Cord, USB, USB Host, Modular Connectivity Slot, 802.11, BT USA/Canada | $927 | Quote |
| ZD42043-T01000EZ | ZD420, Standard EZPL 300 dpi, US Cord, USB, USB Host, Modular Connectivity Slot | $824 | Quote |
| ZD42043-T01B01EZ | TT Printer ZD420; Standard EZPL 300 dpi, US Cord, USB, USB Host, Ethernet, 802.11, BT USA/Canada | $1,186 | Quote |
| ZD42043-T01E00EZ | ZD420, Standard EZPL 300 dpi, US Cord, USB, USB Host, BTLE, Modular Connectivity Slot - Ethernet | $979 | Quote |
| ZD42043-T01W01EZ | ZD420, Standard EZPL, 300 dpi, US Cord, USB, USB Host, Modular Connectivity Slot, 802.11, BT USA/Canada | $1,031 | Quote |
| ZD42H42-C01E00EZ | ZD420, Healthcare; 4'', 203 dpi, US Cord, USB, USB Host, BTLE, Ethernet Module, EZPL | $979 | Quote |
| ZD42H42-C01W01EZ | ZD420, Healthcare; 4'', 203 dpi, US Cord, USB, USB Host, BTLE, 802.11ac and Bluetooth 4.0, EZPL | $1,031 | Quote |
| ZD42H42-D01W01EZ | DT Printer ZD420 Healthcare; Standard EZPL, 203 dpi, US Cord, USB, USB Host, Modular Connectivity Slot, 802.11, BT USA/Canada | $927 | Quote |
| ZD42H42-T01E00EZ | ZD420, Healthcare; Standard EZPL, 203 dpi, US Cord, USB, USB Host, BTLE, Modular Connectivity Slot - Ethernet | $979 | Quote |
| ZD42H42-T01W01EZ | TT Printer ZD420 Healthcare; Standard EZPL, 203 dpi, US Cord, USB, USB Host, Modular Connectivity Slot, 802.11, BT USA/Canada | $1,031 | Quote |
| ZD42H43-C01E00EZ | ZD420, Healthcare; 4'', 300 dpi, US Cord, USB, USB Host, BTLE, Ethernet Module, EZPL | $1,083 | Quote |
| ZD42H43-C01W01EZ | ZD420, Healthcare; 4'', 300 dpi, US Cord, USB, USB Host, BTLE, 802.11ac and Bluetooth 4.0, EZPL | $1,134 | Quote |
| ZD42H43-D01E00EZ | DT Printer ZD420 Healthcare; Standard EZPL, 300 dpi, US Cord, USB, USB Host, BTLE, Modular Connectivity Slot - Ethernet | $979 | Quote |
| ZD42H43-T01E00EZ | ZD420, Healthcare; Standard EZPL, 300 dpi, US Cord, USB, USB Host, BTLE, Modular Connectivity Slot - Ethernet | $1,083 | Quote |
| ZD42H43-T01W01EZ | TT Printer ZD420 Healthcare; Standard EZPL, 300 dpi, US Cord, USB, USB Host, Modular Connectivity Slot, 802.11, BT USA/Canada | $1,134 | Quote |
| ZD42L42-D01E00EZ | ZD420, Locking; Standard EZPL, 203 dpi, US Cord, USB, USB Host, BTLE, Modular Connectivity Slot - Ethernet | $979 | Quote |