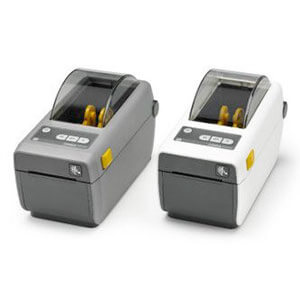 Zebra ZD410 Series Printers
The ZD410 is the smallest printer in its class, fitting easily in the most space-constrained desktop or shelf. Available with either 203 dpi or 300 dpi print resolution the ZD410 is ideal for printing labels with a shelf life of less than one year.
More information available at the following link:
Zebra ZD410 Series Printers Specification Sheet
Part numbers
Below are several part numbers for the Zebra ZD410 Series Printers. BCI can provide you with preferred pricing and help you select the right part numbers and accessories for your needs, request help today.
| | | | |
| --- | --- | --- | --- |
| Part Number | Description | MSRP | Your Price! |
| ZD41022-D01000EZ | DT Printer ZD410; 2" print width, Standard EZPL, 203 dpi, US Cord, USB, USB Host, Modular Connectivity Slot | $409 | Quote |
| ZD41022-D01E00EZ | ZD410, 2'', 203 dpi, US Cord, USB, USB Host, BTLE, Ethernet Module, EZPL | $565 | Quote |
| ZD41022-D01E00GA | DT Printer ZD410; 2", 203 dpi, US Cord, USB, USB Host, BTLE, Ethernet Module, EZPL, TAA | $551 | Quote |
| ZD41022-D01W01EZ | ZD410, 2'', 203 dpi, US Cord, USB, USB Host, BTLE, 802.11ac and Bluetooth 4.0, EZPL | $617 | Quote |
| ZD41023-D01000EZ | DT Printer ZD410; 2" print width, Standard EZPL, 300 dpi, US Cord, USB, USB Host, Modular Connectivity Slot | $513 | Quote |
| ZD41023-D01E00EZ | ZD410, 2'', 300 dpi, US Cord, USB, USB Host, BTLE, Ethernet Module, EZPL | $669 | Quote |
| ZD41023-D01M00EZ | ZD410, 2'', 300 dpi, US Cord, USB, USB Host, BTLE, EZPL | $513 | Quote |
| ZD41023-D01W01EZ | ZD410, 2'', 300 dpi, US Cord, USB, USB Host, BTLE, 802.11ac and Bluetooth 4.0, EZPL | $720 | Quote |
| ZD41H22-D01000EZ | DT Printer ZD410 Healthcare; 2" print width, Standard EZPL, 203 dpi, US Cord, USB, USB Host | $513 | Quote |
| ZD41H22-D01E00EZ | ZD410, Healthcare; 2'', 203 dpi, US Cord, USB, USB Host, BTLE, Ethernet Module, EZPL | $669 | Quote |
| ZD41H22-D01W01EZ | ZD410, Healthcare; 2'', 203 dpi, US Cord, USB, USB Host, BTLE, 802.11ac and Bluetooth 4.0, EZPL | $720 | Quote |
| ZD41H23-D01000EZ | DT Printer ZD410 Healthcare; 2" print width, Standard EZPL, 300 dpi, US Cord, USB, USB Host | $617 | Quote |
| ZD41H23-D01E00EZ | ZD410, Healthcare; 2'', 300 dpi, US Cord, USB, USB Host, BTLE, Ethernet Module, EZPL | $772 | Quote |
| ZD41H23-D01M00EZ | ZD410, Healthcare; 2'', 300 dpi, US Cord, USB, USB Host, BTLE, EZPL | $617 | Quote |
| ZD41H23-D01W01EZ | ZD410, Healthcare; 2'', 300 dpi, US Cord, USB, USB Host, BTLE, 802.11ac and Bluetooth 4.0, EZPL | $824 | Quote |