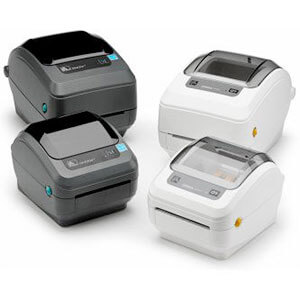 Zebra GK42 Series Printers
Zebra's G-Series GK™ desktop printers, including the GK420™ Healthcare model, combine dependable printing with fast print speeds and network manageability. With their easy-to-use design, GK420™ printers enable you to improve operational efficiencies.
More information available at the following link:
Zebra GK42 Series Printers Specification Sheet
Part numbers
Below are several part numbers for the Zebra GK42 Series Printers. BCI can provide you with preferred pricing and help you select the right part numbers and accessories for your needs, request help today.
| | | | |
| --- | --- | --- | --- |
| Part Number | Description | MSRP | Your Price! |
| GK42-102210-000 | GK420T, TT Printer 203 dpi, US Cord, EPL, ZPLII, USB, Ethernet | $875 | Quote |
| GK42-102510-000 | TT Printer GK420t; 203 dpi, US Cord, EPL, ZPLII, USB, Serial, Centronics Parallel | $720 | Quote |
| GK42-102511-000 | TT Printer GK420t; 203 dpi, US Cord, EPL, ZPLII, USB, Serial, Centronics Parallel, Dispenser (Peeler) | $757 | Quote |
| GK42-202210-000 | GK420D, DT Printer, 203 dpi, US Cord, EPL, ZPLII, USB, Ethernet | $771 | Quote |
| GK42-202510-000 | GK420D, DT Printer 203 dpi, US Cord, EPL, ZPLII, USB, Serial, Centronics Parallel | $617 | Quote |
| GK42-102210-00GA | TT Printer GK420t; 203 dpi, US Cord, EPL, ZPLII, USB, Ethernet, Government | $875 | Quote |
| GK42-102221-000 | GK420T, TT Printer, 203 dpi, EU and UK Cords, EPL, ZPLII, USB, Ethernet, Dispenser (Peeler) | $911 | Quote |
| GK42-102510-00GA | TT Printer GK420t; 203 dpi, US Cord, EPL, ZPLII, USB, Serial, Centronics Parallel, Government | $720 | Quote |
| GK42-202210-00AF | DT Printer Advance Auto 2.0 GK420d; 203 dpi, US Cord, EPL, ZPLII, USB, Ethernet | $809 | Quote |
| GK42-202210-00GA | DT Printer GK420d; 203 dpi, US Cord, EPL, ZPLII, USB, Ethernet, Government | $771 | Quote |
| GK42-202510-00AS | GK420d 203dpi USB/Ser/Centroni cs Parallel Costco only | $750 | Quote |
| GK42-202510-00GA | DT Printer GK420d; 203 dpi, US Cord, EPL, ZPLII, USB, Serial, Centronics Parallel, Government | $617 | Quote |
| GK42-202520-000 | GK420D, DT Printer 203 dpi, EU and UK Cords, EPL, ZPLII, USB, Serial, Centronics Parallel | $617 | Quote |
| GK4H-102510-000 | GK420T, TT Printer ; Healthcare, 203 dpi, US Cord, EPL, ZPLII, USB, Serial, Centronics Parallel | $845 | Quote |
| ZD42H42-D01E00EZ | ZD420, Healthcare; Standard EZPL, 203 dpi, US Cord, USB, USB Host, BTLE, Modular Connectivity Slot - Ethernet | $876 | Quote |